About Mr. Comiter
Andrew R. Comiter is a Partner of the regional tax law firm Comiter, Singer, Baseman & Braun, LLP. Andrew received his B.S. in Accounting from the University of Florida in 2003, a Masters of Taxation from Florida Atlantic University in 2004, and a J.D. with honors from the University of Florida Levin College of law in 2008 with a Certificate in Estates and Trusts Practice. He went on to receive his LL.M. in Taxation from the University of Florida Levin College of Law in 2009.
As a student at the University of Florida, Andrew served three terms as President of Florida Blue Key and was inducted into the University of Florida Hall of Fame in 2007. He also served as a Justice on the Student Body Honor Court, Senator in the Student Senate, and Chancellor of the Tau Alpha Chapter of Tau Epsilon Phi Fraternity. Andrew was the recipient of the 2008 Levin College of Law Community Service Student of the Year Award and 2014 Outstanding Young Alumnus Award by the University of Florida Alumni Association.
Andrew currently serves as a Director for the O'Connell Society, Inc. and is a member of the Law School Alumni Council for the University of Florida Levin College of Law. Andrew is the President of the Palm Beach County Estate Planning Council and serves as a Member of the Palm Beach Gardens Budget and Oversight Review Board. He is the past Chairperson of the Emerging Leadership Project, a collaboration between the Jewish Federation of Palm Beach County and the Mandel Center for Excellence in Leadership, and currently serves as the Chair of the Community Planning and Investments Committee for the Jewish Federation of Palm Beach County.
The focus of Andrew's practice is federal taxation of partnerships, s-corporations, and limited liability companies; business transactions; income and estate tax planning; probate; and trust, guardianship and estate litigation. Andrew is a member of the Florida Bar since 2009 and is a member of the Tax; Real Property, Probate & Trust Law; and Business Law Sections of the Florida Bar. Andrew is the Business Law Section representative to the Family Trust Company Subcommittee of the Florida Bar Real Property, Probate and Trust Law Section.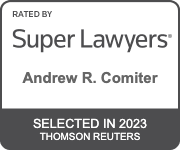 MEMBERSHIPS & HONORS
Past President of the Palm Beach County Estate Planning Council
The Florida Bar (Member, Tax; Real Property, Probate & Trust Law; and Business Law Sections)
Member of the American Bar Association's Section of Real Property, Trust & Estate Law; and Vice Chair of the Tax Litigation and Controversy Committee sub-section
Member of the Fifteenth Judicial Circuit Grievance Committee "E"
Past Chair of the New Tax Lawyers Division of the Tax Section of the Florida Bar
Chairman of the City of Palm Beach Gardens Budget Oversight Review Board
Sponsorship Director and Executive Committee of the Tax Section of the Florida Bar
The O'Connell Society, Inc., Director
Law School Alumni Council, University of Florida Levin College of Law
Palm Beach County Tax Institute
Past Chair of the Community Planning and Investments Committee and Emerging Leadership Project for the Jewish Federation of Palm Beach County
Chair of Business and Professionals Division of Jewish Federation of Palm Beach County
Member of the Executive Committee and Board of Directors for the Jewish Federation of Palm Beach County
Palm Beach County Bar Association
2014 Graduate of the Florida Fellows Institute of the American College of Trust and Estates Council
Member of Leadership Florida Connect Institute Class VI
PUBLICATIONS
Intergenerational Philanthropy, Richard B. Comiter and Andrew R. Comiter.Greater Boca Raton Estate Planning Council (Community Foundation for Palm Beach County), April 26, 2011. [View PDF]
"Are You Ready for This Change for a Dollar?"Andrew R. Comiter co- authored which was featured on the cover of Probate & Property (Vol. 29 No. 2) [View PDF]
"How To OZ: A guide to Opportunity Zones for investors, developers and industry professionals," book released September 14th, 2019
Estate of Aaron U. Jones v. Commissioner,  Andrew R. Comiter co-authored withTimothy K. Bronza, Abigail R. Earthman and Kelly M. Perez for the American Bar Association. [View PDF]
PRESENTATIONS
Taxation of Business Deals and M&A Transactions Conference, Florida Bar Tax Section, April 28th,2023